Financial Aid
Many types of financial assistance are available to help.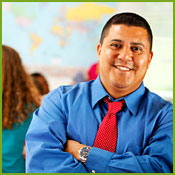 Find Financial Aid
Once you have made up your mind to become a teacher, there are many more decisions to make. What college to attend? What subject to study? What grade level to teach? What type of credentialing program to enter?
One of the biggest decisions is how to support yourself and pay for your education. What do you need to know about financial aid?